Clark Perdue is proud of its decades long of counsel relationship with Anapol Weiss.  The collaborative effort between our firms has proven effective time and again in the representation of our mutual clients.
We are pleased to announce that Anapol Weiss' Senior Associate Paola Pearson has been appointed to the Executive Committee for the national Elmiron Product Liability MDL. Paola was also named Pennsylvania State Court Liaison.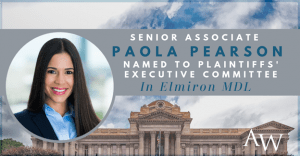 Elmiron is a popular medication used to treat interstitial cystitis and painful bladder syndrome.  Because it has been on the market for years, it has been prescribed to hundreds of thousands of American consumers.
The drug has recently been associated with a significantly increased risk of pigmentary maculopathy, which results from chronic and permanent damage to the retina. Injuries can range from irreparable vision impairment to blindness, which can progress even after patients stop taking the drug.
Specific diagnoses and side effects of Elmiron include:
Blindness (bilateral)
Blurred vision
Macular degeneration
Pattern Dystrophy
Pigmentary maculopathy
Vision disturbances
Vision impairment
Vision loss
We are privileged to work with Paola and her team–seeking compensation for consumers who have suffered Elmiron injury.  Please contact us if you would like more information.